Robby Krieger Band 50 Yrs of The Doors Music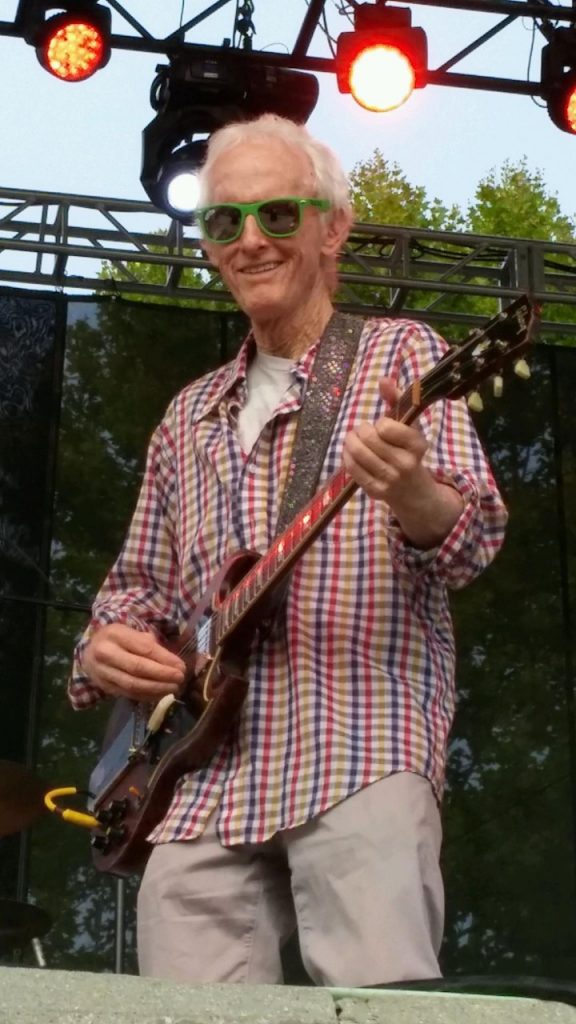 I have to say that the Robby Krieger show was the show I was most looking forward to of all the State Fair free concerts this year. To finally see the legendary Doors guitarist live was going to be such an honor. I had heard so many great things about his shows prior to his appearance Saturday. I heard that he told wonderful stories about how Jim Morrison wrote People Are Strange on a rooftop all in one night and other tales about their years with the Doors. But for some reason, at this show, he decided to forego all that and stick to just playing the music. Not that hearing the music was a bad thing, not at all, but it would have been nice to hear the backstories that went with some of those great songs. The only thing I recall him really mentioning was that Ray Manzarek loved to play Riders on the Storm.
Another downside to the show, unfortunately, was his son Waylon Krieger. Now before you start screaming or sending hate mail, let me explain. Waylon does a fantastic job singing the lead on the songs…usually. Sadly, Saturday, Waylon's voice was shot. They had performed the night before in Chicago at the Rochaus and I have a feeling they may have overdone it. At one point during the performance (I don't remember which song it was), Waylon went to the back of the stage and motioned to the drummer that his voice was strained and that he was literally "reaching" for notes. He was trying, but he was really straining. At one point, he invited the lead singer from Os Gringos onstage to sing Roadhouse Blues. He even completely left the stage during the final song of the night, Light My Fire, leaving the band to play a drawn-out interlude before returning to sing the final chorus.
I also have to wonder if we really weren't of that much interest to them to begin with as we were barely a mention on their tour list on either Robby Krieger's website or his Facebook page. They definitely promoted the Chicago show and I think that is where the bulk of their energy was spent also. It's really too bad because there are a lot of us who waited a lifetime to see such a legend.
Gallery



File Photo: Robbie Krieger of the Doors performs in Indianapolis, Indiana in 2018. Used by permission, (Photo Credit: Melissa Schickel)







File Photo: Robbie Krieger of the Doors performs in Indianapolis, Indiana in 2018. Used by permission, (Photo Credit: Melissa Schickel)