Robot Garden Delivers Big Rock Sound on Debut Album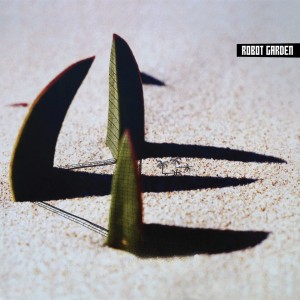 In this time of shortened attention spans, every once in a while something comes along to make you take notice. In this time of cookie cutter bands with formulaic pop songs, every now and then there comes a band with a different identity and a unique sound. Today that band might just be Buenos Aires based Robot Garden.
Robot Garden was formed in late 2013 when Andrés Aloi and Guillermo Porro combined their singer-songwriter and production skills to create music that was more than the Latin pop surrounding them.  With Aloi on vocals and guitar, Porro on bass and Eduardo Giardina on drums, Robot Garden pulls from rock basics but adds enough synth to give their music a larger than the sum of its parts effect.
The opening track "Control," sets the tone for the album. The sound is huge; big bass, big guitar, big drums. Aloi's vocals have been compared to Jack White, and I would throw in a little of Billy Idol into the mix as well.  "Control" has a  great driving beat and nice hook, and makes you take notice.
"Fountain Of Youth" brings down the energy as the album makes its first shift in tempo to this more pop ballad. Easy to listen to, "Fountain Of Youth" makes you wonder what direction this music will take you next.
Well, that question is answered in the other-worldy with a taste of Reggae, "Alien Don't Take My Sheep Away." Yep. With some fiery guitar work, and ghost calling background vocals, it's a unique mixture that produces an engaging blend.
If not for the wall of sound, "I Want To Know" could easily pass for something from early Rock's British Invasion. With the building of tension, easy vocal, driving guitars and steady drum backbeat, it's catchy and fun.
Going over to the "dark side," "Black Hole" is just pure Rock so very close to the edge of Metal. The ability of Robot Garden to change their sound makes for a stimulating ride. "Penelope Derailed" brings down the tempo again while "The Fly" notches it back up.
The final track "Black Wolf" features an acoustic guitar and a mournful vocal. Again, it offers another tone to the album, this one focused on the melody and lyrics.
For a three-piece band, Robot Garden's sound is massive, with the same feel and energy as a band like Rush.  With the synthesizer an integral part of their sound, it would be interesting to see how it is incorporated into their live shows.
Their music is a well-conceived ride through all aspects of rock and pop, with a few side trips into metal, reggae, the old and the new. They offer well-constructed lyrics and nothing about the album is run-of-the-mill.  So if you're looking for a change from the same-old choices, take a look at Robot Garden, a South American band with rock roots growing deep.
Post by Kath Galasso @KatsTheory
 Track Listing:
1 – Control
2 – Fountain of Youth
3 – Alien Don't Take My Sheep Away
4 – Manchester Blue
5 – I Want To Know
6 – Sissyfuzz
7 – Black Hole
8 – Penelope Derailed
9 – The Fly
10 – Black Wolf
[youtube]https://youtu.be/gEagjJdog38[/youtube]