Saturday Night Live Debuts Oct. 11, 1975 #SNL
SNL Premiered 44 Years Ago Today.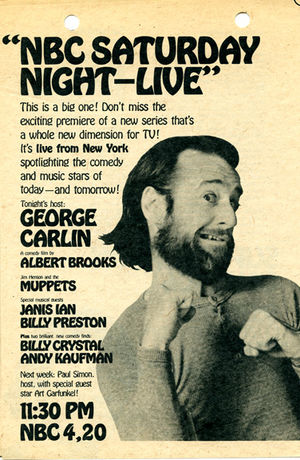 On this day in 1975, Saturday Night Live (SNL), an irreverent comedy sketch show featuring:
Chevy Chase, John Belushi, Dan Aykroyd, Gilda Radner, Garrett Morris, Jane Curtin and Laraine Newman, made its debut on NBC;
The influential comedian George Carlin hosted the first episode of SNL and set the tone for years to come. Carlin wanted to wear a t-shirt, but the network wanted him to wear a suit. As a compromise, Carlin wore a vest and jacket over his t-shirt, and hosted the show while reportedly stoned out of his mind. He starts the show with this:
"It's already Sunday, and it's God's day OFF!! That's what it said in the Bible – He worked six days, then He took Sunday off. It's His one day off, and THAT'S the day we all go in and crowd the church and ask him: [ mumbles praying sounds ] "It's my day off, man!"
Well, we create God in our own image and likeness. No question about that. Every time I see a picture of God, I mean, He has knees and toenails, right? Uh – and a good example – a betterexample – of our kind of self-centeredness, when it comes to God – when we put a statue of Jesus on the dashboard, instead of having Him looking out and watching for traffic, which is what He should be doing, we have Him watching us drive. [ mimes operating a steering wheel with frenzy ] "Heeeeyyy!! Watch THIS, Jesus! Left turn!" You ever see a statue leap? Jumped right up into the baby shoes that time. Don't worry, don't worry – the universe is in balance, because Jesus has a statue of a middle-class American hypocrite on His dashboard. It's alright. Things work out well."
Virtuoso keyboardist, Billy Preston, the only musician to be credited on a Beatles recording other than the group's four members, and Janis Ian shared the musical guest spot. Singer-songwriter, Janis Ian sings her hit, "At Seventeen" in a white, polyester suit that would make Barry Gibb proud. She burst onto the music scene at age 15, only to disappear from the charts for nearly a decade.
Andy Kaufman displays his simple, comedic brilliance as the special guest. He enters the frame appearing nervous, but then calmly turns on a recording of the "Mighty Mouse" theme song and lip-syncs a single key lyric. The live audience loves it and you can feel the star power of Kaufman rise in those few moments.
"I just want real reactions. I want people to laugh from the gut, be sad from the gut – or get angry from the gut." Andy Kaufman
Saturday Night Live went on to become the longest-running, highest-rated show on late-night television. The 90-minute program, broadcasting live from Studio 8H in the GE Building at Rockefeller Center, includes a different guest host and musical act each week. The opening sketch of each show ends with one actor saying, "Live from New York, it's Saturday Night!"
Source for transcript material: http://snltranscripts.jt.org/75/75acarlin3.phtml