Bellamy Brothers, 40 Years.
The Bellamy Brothers are on the road to promote "40 Years: The Album"
The two-disc project is a compilation of past hits, like "Let Your Love Flow," "Redneck Girl" and "If I Said You Have a Beautiful Body (Would You Hold It Against Me)" plus 20 new songs including "Dyin' Breed" and "Hippie Cowboys."
We talked with David Bellamy on a sunny, summer afternoon from his ranch in Florida about the past and the present. As we look back on this conversation, it's easy to sense the authenticity and positive attitude David Bellamy radiates, and we'd like to say up front, in the spirit of disclosure, this was a real pleasure.  
OS: Before our interview, I spoke with my cousin to hear his view of the Bellamy Brothers. He is and has been a longtime fan of the band, and I asked him to describe why. He used phrases like, "crossed a lot of musical boundaries", and mentioned that he still appreciates the no-sell-out attitude you guys have been exhibiting for four decades. He described one of you as a cowboy and the other as a hippie. Do those descriptions fit?
DB: Well, (soft laugh) I guess you could call both of us hippie cowboys. Howard was a cattle buyer after he graduated from high school for three or four years. We still sang together even while he did that and we had a band that played weekends. I started to get enough work going for the band that he finally quit buying cattle, and we just went on the road. We had a band that toured the Southeast a lot and played clubs. We were actually able to make a living at it. We didn't get rich, but we could make a living playing. So I think hippie cowboys is still what we are.
OS: I hear a Caribbean flow and flavor to your music – is that reflective of a Florida influence or something else?
DB: I guess it wasn't intentional. We grew up in Florida where we used to pick oranges with the Jamaican fruit pickers every year in our orange groves, and we got a lot of island influence. There's a various amount of music we heard, and I think all of that sort of creeps into our music every time we write or try to do an album. We also lived in a house that played a wide variety of music when were kids. Everything from hearing gospel music in church to hearing my dad play Jimmie Rodgers songs and my sister bringing home Everly Brothers and Elvis records. Then, later on, we grew up in the 60's which was a very diverse musical period. We heard singer-songwriters like Bob Dylan and Joni Mitchell and then we became huge fans of Merle Haggard and George Jones. I think all that stuff rubbed off on us.
OS: When did you start playing music? Who encouraged you to express yourself musically?
DB:  We pretty much always had music around us. I don't really know a starting point. From the time I was born our father played in a band which was kinda a western swing polka band. He played with two Czechoslovakian brothers – they played fiddle and accordion.
They weren't all that professional, but they played these little frolics and parties. If they weren't out playing, what he used to call, "frolics," they were at our house playing music and drinking moonshine. They stayed up late playing all Saturday night and then went to church Sunday morning to sing gospel songs.  There was always music there, and it just seemed like a normal thing for us. We didn't even try to get into this business; we were just kinda born into it.
Our dad was a rancher and a musician, and that's what we've always done. We grew up on a small ranch and worked for a lot of the bigger ranches in our areas as well and played music at the same time. That's our lifestyle today as well. We live on a ranch and play music all over the world.
OS: Jerry Jeff Walker follows you on my playlist – would you consider that a good musical mix?
DB: Oh absolutely! Jerry Jeff is one of the best. Somebody told me that the 1st time Jimmy Buffett went to Key West; Jerry Jeff gave him a ride. He's quite a character.
OS: What type of songs are on your playlists?
DB: I listen to so much different stuff. I listen to a lot of old country music and rock. I like that a lot. I still listen to and like a lot of the classic writers like Dylan, Joni, Lennon/McCartney, and Paul Simon. Country writers like Kris Kristofferson are still writing and producing, so I'm still listening.
OS: I saw a list the other day of several different pop/rock artists with the same writers and producers – is this the model in country music too or is it possible for an unknown roadie to get a song recorded today?
DB: Now, it's kinda the same for country music. There is a lot of great independent artists out there, but I think it's a mill mostly now in pop and country. I don't sit around and bash what they're doing in country music, cause there's no need to — it doesn't get you anywhere, but it's not my taste. There are things I hear now and then that I like. Lots of people are still producing, and there are still individual writers and singers, but it's mostly a mill.
OS: New country is moving more toward pop music and away from its roots. I speculate that great 70's Bands like Fleetwood Mac or the Eagles couldn't get airplay on a rock music station in this market. Would you agree?
DB: I think that's probably true and with what's happening now in country music, bands like the Eagles might even be too country for mainstream radio. I heard some new bands the other day at a country festival, and I was surprised — because it really had nothing to with country.
The difference in bands like the Mac, The Stones, The Beatles, or The Who — they were full of writer's, musicians, and singers. The Beatles had three major songwriters and singers that were all up front. And even Ringo (chuckles) had a couple of good songs now and then.
OS: Ringo was underrated.
DB: Yes! Ringo was un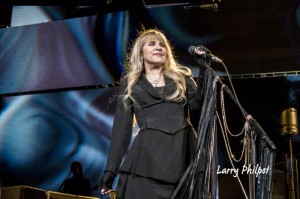 derrated as a songwriter and musician. In Fleetwood Mac you had Stevie Nicks coming out with all that great stuff and Christine was an unbelievable songwriter. Christine wrote some of their greatest hits even if Stevie got most of the attention. You don't see a band like that nowadays as much. You see good bands, but there are not two or three members that sing great and write songs great.
OS: We saw Steven Tyler promoting his Nashville Sound in Phoenix last month, and there is a definite market for more of a country vibe. How do you think he's relating to the market?
DB: Steven Tyler is very, very talented. I think he can move around in genre's, and it's not really what I would call country, it's what I call, Steven Tyler doing a solo project. That's the thing — I love music. I've never labeled music. Howard and I play a lot of foreign countries, and they don't really have labels. They just play what they like, and I like that format a lot. The country genre right now is kinda strange to me — I will admit that.
OS: "Let Your Love Flow", released in 1976 – is a super hit for the Bellamy Brothers. I heard a roadie of Neil Diamond gets the writing credit for this song. Can you tell us the background story there?
DB: I had moved to L.A. right after I wrote "Spiders and Snakes." The producer of that record talked me into moving out there and working on Jim Stafford's TV show. He offered Howard a job on the road; managing, and singing back up with Jim. So we both went to work for that outfit.  I had started doing some demos and hanging out with Neil Diamond's band while he was on a two-year hiatus and they are great guys. We were doing demos of some stuff I wrote and one day Neil Diamond's drummer, Dennis St. John, came over to me and said, "Our roadie wrote this song you really should hear." He said, "It sounds like something you'd do." So I said, "Great! Bring it by the house." He actually brought it over that night.  Howard was back in town from a road trip with Jim, and we both were like, "Man, this a great, great song." It didn't take much to talk us into cutting it.
OS: "Let Your Love Flow" is also used in connection with the Susan G. Komen Foundation. My aunt is a breast cancer survivor, so that's another reason my cousin is a fan. Could you speak a bit about your involvement with them?
DB: The day we spent doing the video with the cancer survivors from Susan G. Komen was one of the most rewarding days I've ever experienced. There were 40 or 50 ladies in the video, and some of these women had 20 and 30 surgeries for breast cancer. Meeting them and talking to them was so uplifting and such an amazing experience because they've been through so much. They inspire you. We love doing that and continue to support the Susan G. Komen Foundation with great pride.
OS: You've been performing for four decades — are there any places or performances that stand out?
DB: We've had many incredible performances in exotic places, some we can never forget. We played on the DMZ in North Korea. We gave an unplugged performance on the DMZ for the soldiers that never leave there because they're pretty busy guarding it 24/7. Everybody from the generals and staff sergeants to the kitchen help heard us play. We were probably the first band ever to play in East Germany when the wall came down.
OS: How is the dynamic between you and your brother, Howard on the road, on stage and in life?
DB: I think on stage we're probably equaled out pretty well. I sing more lead on stage, Howard is actually a better harmony singer than I am, but then again, Howard sang "Let You Love Flow", our biggest hit and has sang lead on a lot of other hits as well. We're definitely not unbalanced. It works pretty well and in our businesses we have a lot of roles and wear a lot of hats.
OS: Our last question is for the redneck's girls; You've been married for quite a while. Is your wife a redneck girl?
DB: I'm lucky. My wife is actually from Fort Worth Texas. She grew up in town, but I moved her out to the ranch 27 years ago in Florida, so she's pretty much been a redneck girl ever since.
OS: Well, Texas women know, if you live on a ranch, you gotta cowgirl up.
DB: (Laughing) That's for sure.
OS: Thank you so much for speaking with us today Mr. Bellamy. This conversation was very engaging, and we are looking forward to seeing The Bellamy Brothers and Gene Watson in August at the Inn of the Mountain Gods.
DB: Thank you, this was a pleasure. I love New Mexico. It's one of my favorite places, and I enjoy being there — especially during green chili season. We'll see ya'll then.
http://innofthemountaingods.com/event/the-bellamy-brothers-gene-watson/