Kendrick Lamar in Chicago, Reviewed
Top Dawg Entertainment-Championship Tour
Location: Hollywood Casino Amphitheatre Tinley Park/Chicago Illinois w/ Kendrick Lamar
Marie Markey
True Friends, One Question.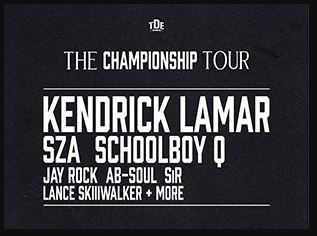 Headlining the Championship Tour put on by Top Dawg Entertainment, Kendrick Lamar was infallible. The show itself wasn't necessarily as artistic as past tours (the D.A.M.N tour had heavy influences of martial arts depicting discipline and strength for example) but no one in the crowd seemed to notice or care. Notably, no one in the audience seemed to mind that second billed SZA dropped off due to reports of damaged vocal cords, and while his TDE label-mates were massively entertaining to watch, everyone was there to celebrate one of the most influential hip-hop artists of our time.
There is no denying that K-Dot has had a phenomenal year starting with the release of his 4th studio album (DAMN) which went on to win accolades such as Grammy for Best Rap Album as well as the NAACP Image Award for Outstanding Album and finishing the year winning the Pulitzer Prize for Music. DAMN made history as the first win for a non-classical or jazz musician. Many fans believe this prize was well overdue and should have been awarded to his 3rd studio album To Pimp a Butterfly but we will leave that be for now. Lamar even curated the soundtrack for record-breaking Marvel movie "Black Panther."
It was clear this concert was a celebration. A toast to Kendrick, TDE and a record-breaking year in the books. However, as Kendrick oscillated between his different albums it was clear there was something more profound he wanted to display.
Kendrick kicked off his almost one hour set with DNA and immediately the crowd was on it's feet scream-singing every lyric along with him. With lyrics such as "I got power, poison, pain and joy inside my DNA," he was empowering and resonating with everyone in attendance and with an audience of such vastly different backgrounds that is no easy feat. Few performers, politicians, leaders can bring together people from as many backgrounds as Kendrick and it was heartening to see so many people unified and upholding lyrics that preach self love and acceptance. It felt as if everyone in the crowd had a special song(s) that meant something to them and with lyrics that fight to end the stigma against mental health or finding strength in whatever circumstance you may be in, how could you not? The man exudes confidence while throwing shade at rappers and hip hop artists that aren't stepping up and giving nods to the greats with lyrics like "Annie are you okay?" The crowd definitely internalized that confidence and allowed Lamar to keep taking it higher.
With every song, Kendrick took the energy up a notch. As he cherry-picked songs from Good Kid, M.A.A.D City, To Pimp a Butterfly and DAMN it felt as if he was traversing Maslow's Hierarchy of Needs and the crowd was there for it. If a kid from Compton can, couldn't we all? The energized audience was taking his message and giving it right back to him. Kendrick let the beat drop out of "Humble" and the audience kept up with every word until he started the song over and gave a performance to remember. Even with slower songs such as "Love" and "Loyalty" the energy was palpable and cellphones were in the air creating a mesmerizing and…humbling…scene. Crowd favourites "Money Trees" and "King's Dead" had the help of Jay Rock and the chemistry the two artists had on stage was incredibly fun to watch.
This is definitely not a tour to be missed. With the energy, the message, and just the downright amazing performance there is no denying that Kendrick Lamar definitely has the yams.